Choosing to dress up your dining room window is a matter of preference – some homeowners prefer a clean look, while others tend to spruce them up from time to time. You can control the amount of light you let into your dining room by using shades or café curtains for a touch of simplicity.
Whether you're looking to add a few features to your dining room windows or replace the old shades, we've got you covered. Continue reading as we reveal some fabulous dining room window treatments ideas.
Why Dress Up Your Dining Room Windows?
Adding fabric or shades to your windows can be a game changer for the entire look of your home. For instance, indoor solar shades can be a great addition to your dining room, offering both efficiency and elegance.
Even though you might not think windows are a huge deal when you have furniture and light fixtures to think about, windows can still be a focal point of your home. They determine whether your place looks intimate, allows some light in, or is bright with lots of natural light.
Windows set the general tone of your decorating design. They affect the overall look and feel of your place, both from the inside and outside.
Spruce Up Your Windows the Right Way
You really can't go wrong with choosing a certain style to dress up your dining room window, but knowing some of the best ideas to transform your windows into "art installations" can mean a great deal for the overall look and feel of your home.
Whether you choose dining room shades or drapery, you'll enjoy the new look of your dining room area.
Use Louvered Shutters
The best feature of louvered shutters is that they add a casual tone to your dining room, making the time spent there pleasurable. Going for louvered shades is the right choice if you're after window treatments for dining room that add a sophisticated touch without using any fabric.
Consider Modern Drapery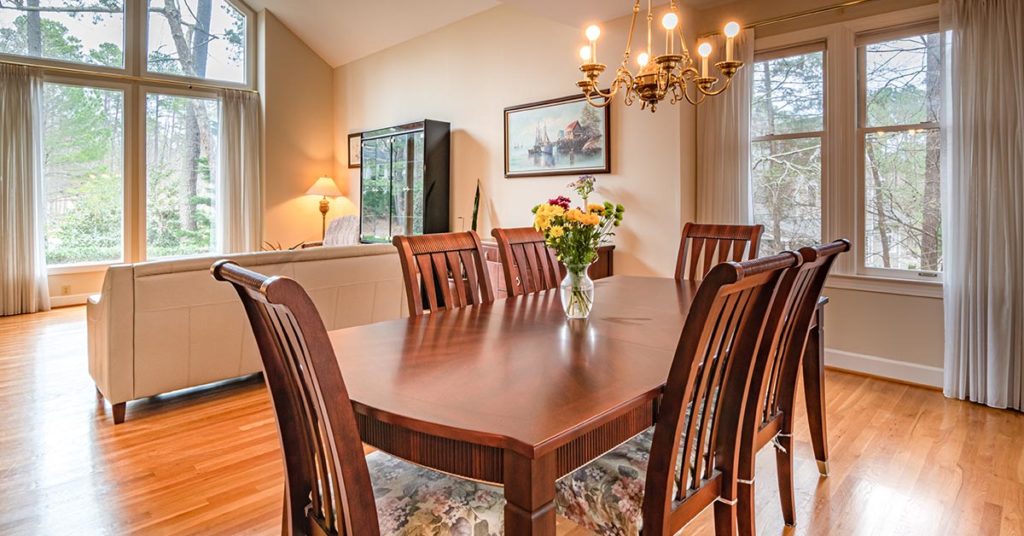 If you tend to keep up with the trends and consider yourself a modern individual, then choosing fashionable drapery for your dining room windows will add a touch of class to your home's design.
Modern drapery will look perfect in a large dining room with sizable windows, so if you sport such a design – go for the modern drapes.
Give Roman Shades a Go
This one's for those that prefer to tone down the light in their dining room area! Besides using solar shades, you can also consider Roman shades as window treatments and turn your home into pastel heaven.
Roman shades work best on middle-sized windows and in both large and small dining areas.
Let Light In Without Compromising Your Style
Choosing the right window treatments for dining room options can be easy and enjoyable if you contact our team of professionals at Total Window.
We welcome you to browse through our selection of window treatments and check out our unique "Total Window Process" that ensures the quality of our products – from roman shades to drapery and panel systems.
Send us a message today.