Pinterest is, without a doubt, a treasure trove of inspiration. The website is the perfect place to find pictures of things you want to try, from fashion to dream vacations to recipes. It's not surprising that one of the most popular Pinterest categories is home design.
Not everyone has the eye for good interior design, so plenty of people look to Pinterest for ideas to emulate and make their homes look like a feature in Architectural Digest. You can find countless boards dedicated to styling window treatments by diving in further.
Below, we give you the best designer tips to make your window treatments look professionally styled.
1. Hang curtains high and wide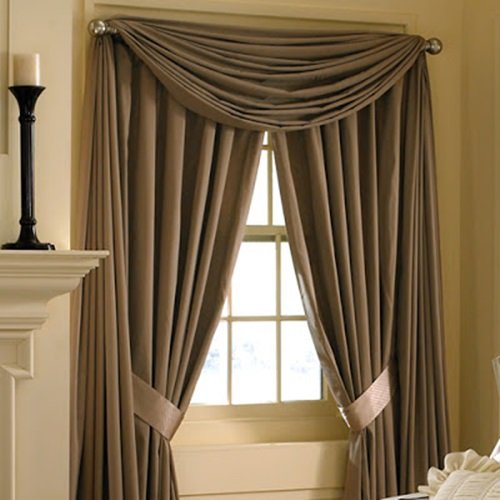 If your window treatment of choice is curtains, make sure to follow these golden rules:
Don't hang the curtain right above the top of the window
Don't choose a curtain too short
Don't choose a rod too narrow
While it was popular in the past to have curtains hanging from rods right above the top of your window, now it's more visually pleasing to hang it several inches higher or as close to the ceiling as you could.
The rod you use should also be a good 8 to 12 inches wider than your window. Both of these styling rules trick the eye into thinking your window is wider and taller, which lends your space elegance.
Curtains and drapes should also kiss the floor or, at the very least, hover only half an inch above. Anything shorter doesn't look visually pleasing.
2. Layer window treatments
The best-looking windows almost always have at least two types of window treatments. It could be shades framed by drapes or wooden blinds with custom Roman shades.
This window treatment styling tip has two benefits:
The more window treatments, the better the insulation.
Your window can become the focal point of your room.
3. Work with your natural light
While window treatments are used to control the light coming into a room, especially when you have big windows, they can also be used to make the most out of the natural light in your area.
A well-chosen window treatment, such as roller blinds or sheer curtains, can frame your window nicely while providing sophisticated, diffused natural light and privacy at the same time.
4. Don't forget privacy
Speaking of privacy, it's not something you can neglect when choosing window treatments. You may like the look of translucent, gauzy fabric billowing in the wind and letting in sunlight, but it may leave your home exposed at night.
You can opt for models with privacy linings when choosing a window treatment. You can also go for double roller shades, which have alternating bands of opaque material that give you control over your window's privacy and the amount of light you're letting in.
5. Don't skimp on quality
Not only do cheap materials look cheap, but they also break and discolor easily. As such, choosing window treatments made from quality fabric and hardware is key to keeping your windows looking beautiful for a long time.
This is especially important if you have kids or pets in the house. With window treatments made from the best materials, even rowdy pets can't ruin the beauty of your windows.
This is why Total Window offers beautiful, functional, and finely crafted window treatments. Our products range from drapes to blinds to shutters, custom created to meet each client's privacy, light control, and decorative needs.
Schedule a consultation to find the Pinterest-worthy window treatments for your home.