Window shades are a popular choice for window treatments as they're easy to install and inexpensive. Particularly, modern roller shades for windows are great as they can be used in any room as long as you consider things like style, insulation or UV blockage in choosing the right roller shade.
There will be advantages and disadvantages for window roller shades. For instance, they can instantly add style to your room but they're not suitable for odd-shaped windows. You want to avoid issues like this that's why choosing the correct type that suits your needs is important.
Here are the top pros and cons of window roller shades:
Pros of Roller Window Shades
Good filtering features. Light filtering roller window shades provide good UV protection. They're a popular choice for offices, hotels and other commercial places.
Versatile. Roller shades are a perfect choice for any room as they are available in a wide array of colors, textures and patterns. They can also be customized with different fabrics, from light filtering to blackout. They have motorized mechanisms, making them easy to install, raise and lower down.
Motorized feature. You can easily operate roller shades with a push of a remote control button or

through your smartphone

. Larger shades are heavier to operate manually so the motorized feature allows for easier control.
Customizable. Customization options include the cordless, smart pull, and continuous loop. The cordless option allows for easier operation by eliminating dangling cords. The continuous loop is one endless cord that's ideal for raising larger windows easier. Smart pull allows easier raising with a quick yank on the retracting cord.
Easy to clean. You can easily clean your roller shades by using a vacuum cleaner. They don't need to be washed, unlike fabric curtains, and you don't need to clean them often if the room is air-conditioned.
Cons of Roller Window Shades: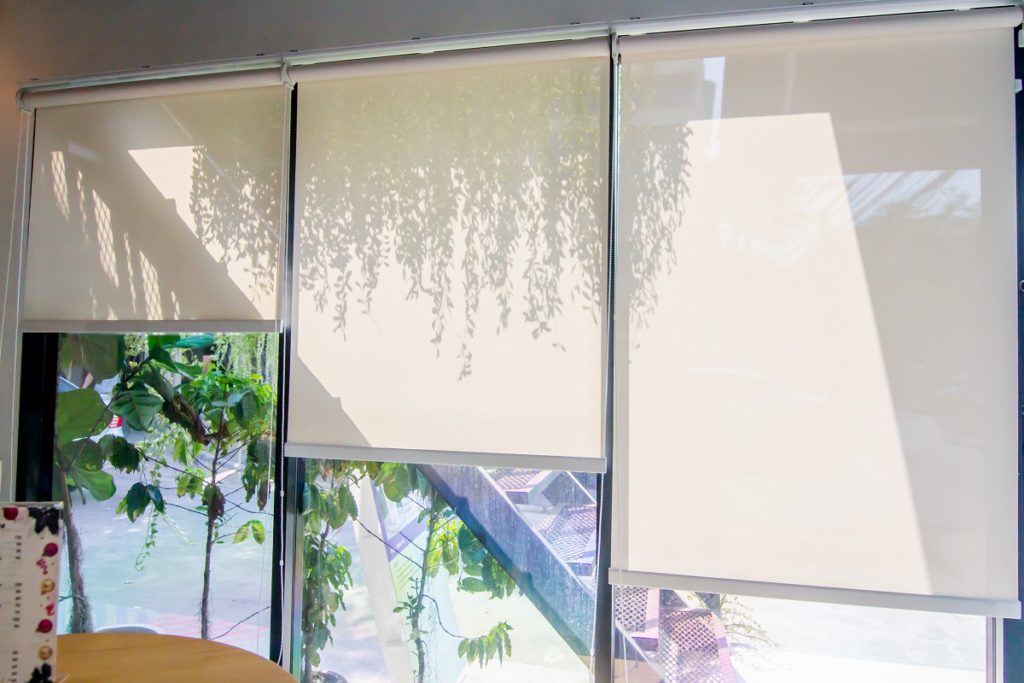 Privacy. Roller shades with solar fabrics can provide privacy, but the inside of the house can still be subtly seen especially when there are lights on. Although they're very good in filtering UV rays, the fabric type can give the windows a darker and unattractive appearance on the outside.
Motor maintenance. There's a high chance of motor failure in motorized roller shades. In case the motor fails, it needs professional service for repair or replacement which can be expensive. Keep the motor in good condition through occasional cleaning and by not letting it near any moisture or water.
Not suitable for Victorian houses. Modern roller shades can't be used with Victorian windows. If owners seek to retain the historic look of the house, they usually opt for shutters or blinds to retain the aesthetic appeal of the home's decor.
Functional Modern Roller Shades
Total Window offers innovative custom window furnishing solutions. Our modern roller shades are guaranteed to be beautiful, easy to maintain, and long-lasting. Our team of experts makes sure to provide you with high-quality service that matches your needs.
For enquiries, call us today at 954-921-0109 or fill out our online form.