Roller blinds have become a popular window dressing option for most homeowners, especially when they have bigger windows. This is due to their ability to serve multiple purposes. First of all, they're a convenient and efficient way to provide your rooms with an additional layer of privacy. They're also made tocomplement your room's overall design, no matter your style.
With these benefits in mind, here's a closer look at how motorized roller blinds are powered:
Hardwired
Plugging in yourelectric roller blindsis the most convenient method to give them power. With different motors available, you can easily avail of one that matches your outlet's voltage requirements. Alternatively, you may even hire an electrician to directly connect the blinds to your main power supply. Its power and durability also make it more suited to heavier fabrics.
Homes in the middle of construction, renovation, and expansion will benefit most from this power source type. Once they're in place, you then no longer have to worry about changing batteries or any unsightly wiring. Long-term, they are also generally a more cost-effective solution compared to battery-operated blinds.
Batteries
Not all homeowners choose to hard-wire their roller blinds. Some may dislike the sight of exposed cables running towards their sockets. Others simply do not have any existing outlets nearby. To address the issue, you can opt for battery-operated blinds. You can choose between standard batteries or their rechargeable counterparts.
Additionally, battery-powered motors are made to be highly efficient. This means your batteries will last a few months or even years. Their compartments are stored and tucked into the roller blind's barrel, guaranteeing that it's out of sight and out of mind. Regardless of whether you picked thehorizontal or vertical version,you will notice that it will maintain its sleek design.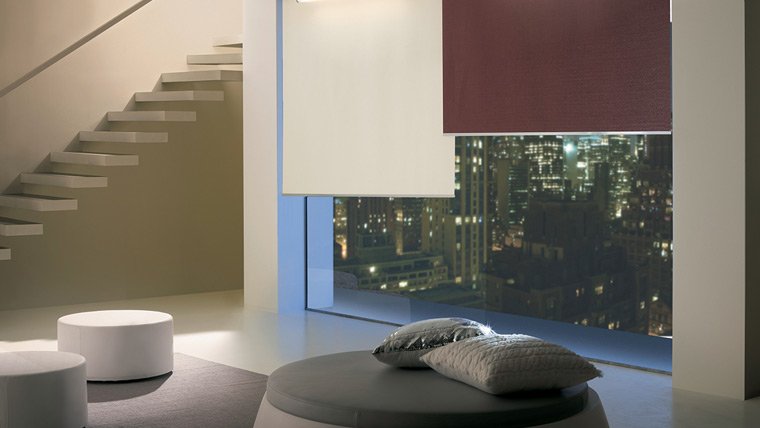 Solar
Depending on your window's location, you may even go the environment-friendly route. Westward- and southern-facing windows are prone to receiving the most sunlight — making them the best candidates for solar-powered roller blinds. As for installing the panels themselves, simply mount them behind each shade facing outdoors and you're good to go. Double-check that trees, overhangs, and awnings aren't covering the solar panels to make use of their maximum potential.
You can expect these to last one to two years minimum before you need to consider going out and getting them replacements. Furthermore, you can rest assured that the blind's batteries will be continuously recharged as long there's natural light.
Speak with a Roller Blind Expert
Many homeowners consider motorized roller blinds as the ultimate addition to any home because they provide you with full control of your space's privacy and lighting. This is true regardless of the design of the room they will be installed in. You're also provided with multiple options when it comes to using them. You can choose from fabrics and designs featured on the simple plug and play models, and battery or solar-powered solutions.
If you want more details on quality roller blinds, get in touch with the Total Window team todayfor a consultation.