Roman shades are the most practical type of window covering used to block bright sunlight and provide levels of privacy from the outside world. Also, it is considered a classic yet popular window treatment that adds a little drama and sophistication to any part of your house. Essentially, this is a full-length, drapery fabric actually mounted on the window which gradually folds as the strings are being pulled.
What are the common styles of Roman shades?
That being said, Roman shades offer various window treatment styles to consider.
Standard Flat Fold
This is the most affordable and popular style of Roman shade because it uses the least amount of fabric due to the simple flat design. Its simple and contemporary look is ideal for daily shades, you can open and close with just the push of a button. This works well with shallow windows and French doors.
Plainfold or Knife Pleat
When using a solid-colored fabric, plainfold or knife pleat is considered the most popular Roman shade. It features a heavier and wider fold that helps the fabric fold evenly and gives some visual interest to the shade. It hangs nicely on the long, narrow glass area of a door or shallow windows.
Relaxed or European Fold
It is called a relaxed style because of its soft natural curve at the bottom. This style is ideal for baby rooms to create a calm atmosphere. Also, an ideal shade to add appeal to the kitchen or breakfast nook where you can enjoy the view out of your window while blocking the harsh rays of the sun.
Waterfall or Hobbled Fold
This is the most elegant style of Roman shade and is known as the looped or teardrop shade. This style tends to be more voluminous and creates a romantic feel because of its smoother and rounder cascading folds while keeping a straight line at the bottom. It is recommended when you want to save energy costs because it provides a thick layer of insulation. It is often used in master bedrooms, dining rooms, and living rooms.
Benefits that Make Roman Shades a Great Window Treatment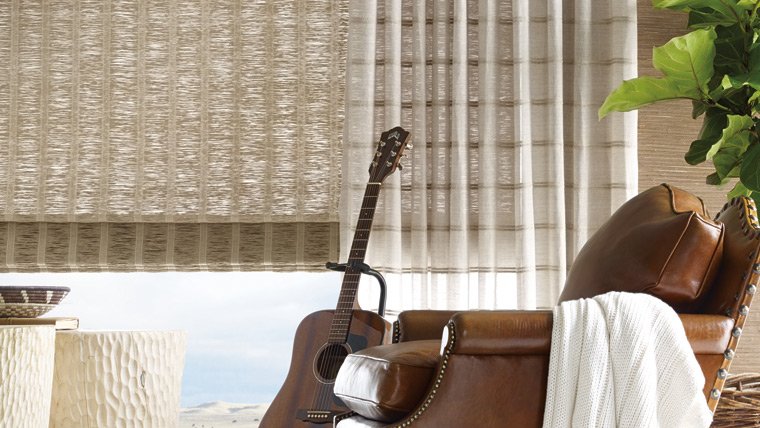 Versatility
Thanks to their unique designs, Roman shades can be used in any room. All you need is to have careful consideration when choosing fabric and color that fits your home interior decor. They also have the benefit of a long and stylish life.
Energy-efficient
Considered energy-efficient depending on the material you choose. It is a simple and high beneficial solution in all seasons because it maintains your home's temperature, keeping the interior cool in summer and warm in winter.
Customized by you
It lets you add a personal touch to your home by choosing the right design, color, shape, size, texture, functionality, and material that will match your taste and lifestyle. Customization ensures that the shades fit your windows while providing security, comfort, and maximum coverage from harmful UV rays of the sun.
From selecting styles, colors, and materials, our friendly and talented window treatment specialists can help you create the perfect Roman shade for your home. Make an appointment now to find out more about measuring and installation services.