If you're a cat or dog owner, your pet has likely mauled your drapes or blinds. Attacking draperies and window furnishings is a common habit among pets. According to the American Kennel Club, destructive behavior isoften due to anxiety. Around 70% of all dogs and 24% of cats suffer from it, and it usually takes hold when their family members are away at work.
As a result, Total Window has often had to help clients and customers looking for replacementwindow furnishingsthat can withstand their pet's habit. While no window furnishing is 100% pet-proof, there are window treatments and blinds available that can withstand clawing and are highly resistant to damage or breakage. What's more, they resist tangling, which could otherwise end up harming your pet.
Cordless Shades and Blinds
Cordless roller shades and blinds are great for homes with cats and dogs because they don't require a pull cord to raise. This means there's nothing for them to grab or pull, decreasing the risk of damaging the blinds or the line becoming a choking hazard.
Conventional blinds have gaps that pets can get stuck in. This often ends up with the pet yanking the blinds out to get loose, damaging them. The cordless fabric blinds eliminate this problem, as they have no gaps that your pet can get trapped in.
Opaque or Semi-Opaque Shades
One of the reasons that pets are drawn to your windows is outside activity. Seeing what's going on outside, such as a stray cat walking past or the postal worker dropping off mail, gets them excited or agitated. This might send pets, especially dogs, into a frenzy and might result in them becoming tangled in the drapes or blinds.
Using opaque or semi-opaque shades limits their vision. Since they can't see what's going on outside, they are less likely to be distressed by what's going on outside. Another bonus is that opaque and semi-opaque shades provide added privacy to your home.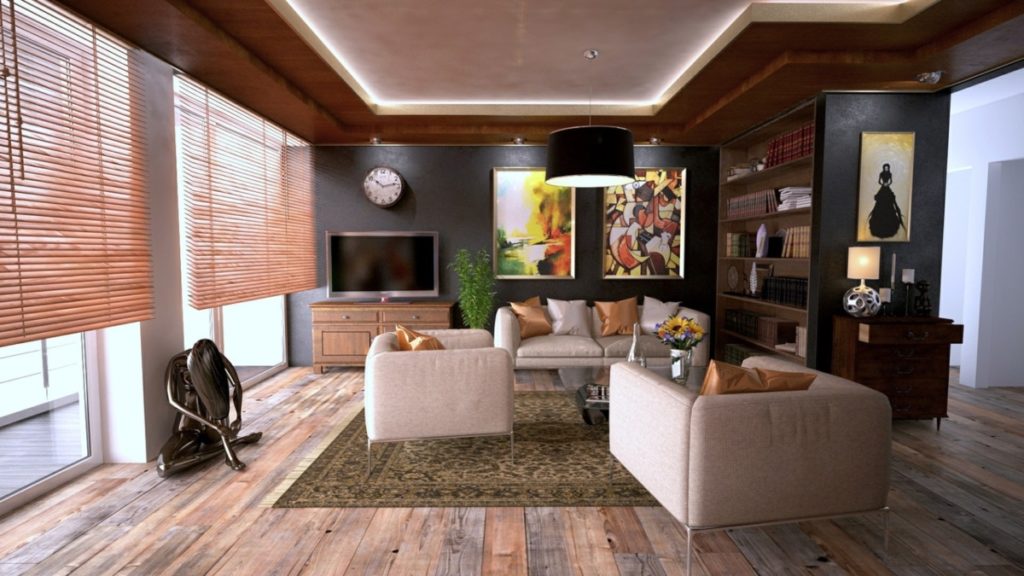 Wood Blinds
If you prefer a more natural look, wood blinds are a great option. Apart from being attractive, they are far sturdier than vinyl or aluminum options, making them more resistant to clawing and gnawing.
However, it's best to choose wood blinds with wide slats, especially if your pet is very curious and will stop at nothing to see outside. When the blinds are open, they can still peer through the gaps between the slats, but the gaps won't be small enough for them to get stuck in.
Wooden blinds also make it difficult for pets to wedge the window open, as they are heavier and more secure than curtains or blinds. It helps keep pets safe indoors.
Vertical Blinds
By changing your blinds' orientation, you help prevent damage to them. Horizontal blinds are easier for pets to get stuck in if they lose their balance or poke their way through. Vertical hanging blinds are often more loosely connected, with plenty of space for pets to get in and out.
Moreover, pets batting at vertical blinds are less likely to snag multiple blinds simultaneously, unlike with horizontal ones. If anything, their paws will likely slide down from the vertical blinds, and they would do less damage.
Keep Your Pets and Windows Safe
The best solution to keeping your drapes and blinds safe from pets is giving them something else to claw or gnaw on. Keep a scratching post or a chew toy out for them before you head out, so they won't be tempted to play with your blinds. And if they like to sit by the window, give them a designated spot that they can reach without difficulty, keeping drapes or other window furnishings away from that area.
Total Window has a wide array of window furnishings, from blinds to drapes and panel systems. We offer numerous selections of each variety, so pet owners always have options that are both aesthetically pleasing and safe for their pets.View our products here,or contact us for aconsultation.