Choosing the proper window treatment can be overwhelming. There are so many options out there in myriad colors and patterns, with different features, and in different qualities. Customizing shades to your project and each window is a good way to sort through all the information and options and leaves you with the choice that is truly the best. Any blind, shade, shutter or drapery that is made specifically to your exact window is a custom treatment.
1. Help in Selecting the Proper Treatment
Custom treatments allow the homeowner to really examine all the options available. Each project is different and each client has different wants and needs, by choosing a custom option the consultation process can help narrow down the options, ensuring the proper treatment is selected every time.
2. Perfect Fit
Custom shades, blinds, shutters, and draperies are made to exact and precise measurement – down to an eighth of an inch – ensuring your treatments look like they were meant for your space. If shutters are being installed the fit is paramount to the shutter functioning properly and holding up over time, an ill-fitting or mismeasured shutter will warp and fall apart over time.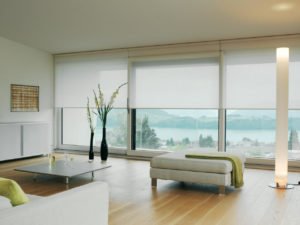 3. Quality
Custom treatments are made of better quality materials and tend to last much longer. Window treatments are an investment, just like any furnishing or fixture in your home. By selecting quality custom treatments, you ensure your investment lasts, functions and add value and comfort to your space.
4. Motorization
Automation of shades, draperies, and shutters adds ease of use and convenience to the everyday experience of opening and closing shades or draperies. Motorizing shades is a fabulous option if shades are especially large and heavy or in a hard to reach the area, allowing the treatment to be operated from almost anywhere at the touch of a button. Motorized shades require power, either hardwired or via a battery, to operate, identifying which option is best is something a professional consultant is trained to help with.
5. Budget
Everyone has a budget. While our shades, shutters, and draperies will never be the cheapest option our sales team can help you select the proper treatment for your project while staying within your budget. We will ensure you select a solution that meets your needs, will last and will stay on budget.
6. Function
Function matters. Choosing a custom treatment means you don't have to compromise on the look you desire. Custom treatments allow attention to be paid to the smallest detail. You can choose a cordless option or have manual controls placed on the side of the treatment that is most easily accessed. Our professionals will help ensure that your blinds and shades are functional and beautiful.
7. Hardware
Hardware can be just as important to the design and function of treatment as the treatment itself. The hardware must hold up to wear and tear of everyday use as well as adding to the aesthetic of the shade. Customizing shades allows you to choose everything from the cord material to the look of a pull bar, bottom bar or drapery track.
8. Installation
One of the key factors that ensure your shades function properly and complete the look of your space is the proper installation of each treatment into a window opening. A poorly installed treatment will not function properly and will break down over time, at Total Window our specially trained installers ensure the proper installation and fit every time, ensuring your project lasts and meets our commitment to perfection.
9. Variety of Designs/Fabrics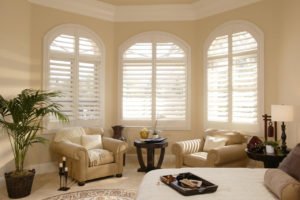 There are so many designs and options to choose from and big box stores do not offer them all. Customizing your window treatments allows you to choose any fabric or print in virtually any size. Shutters can be crafted for round or arched areas. French doors can be fitted with custom cut out shutters or shades that fit over the exact opening. Roman shades come in a wide array of detailed styles from Austrian to palm beach, simple to very complex, with a custom fabric shade you ensure your shade matches your style. By customizing your project, shutters can be painted or stained to match your trim perfectly. A wide array of fabrics allow you match your existing décor or add a new statement to any room.
10. Blackout
If the blackout is a priority in your space the best way to achieve this is with custom treatments. Custom treatments allow the shade or drapery to be installed letting in as little light gap as possible, a tight-fitting shade is paramount in blackout projects. Additionally, by selecting custom valances, headboxes and side channels it is possible to block most of, if not all, of the light from the outside.